Franchise + Concession Opportunities
The world's first immersive entertainment platform
Revolutionising Gaming
Immersive Gamebox is revolutionising the gaming landscape, delivering a unique, shared and social gaming experience, captivating audiences of all ages and skill levels
Rapid Growth
Rapidly expanding globally, already a dedicated player base of 1 million, strong repeat rates and a committed pipeline of unique content and games to continue fuelling growth
Grow with us
As a Concessionaire already operating movie theatres, family entertainment centres (FECs), bowling alleys, and other live entertainment spaces, or as a multi-unit Franchisee developing the IGB brand across a territory
We are looking for...
Multi - unit entertainment operators willing to commit to an ambitious growth plan
Regional partners with development plans to build and scale IGB across exclusive territories.
Partners with existing entertainment/retail locations where IGB is an incremental customer driver - i.e. movie theatres, gaming centres, etc).
SOME TOP LOCATIONS STILL AVAILABLE
Open
United Kingdom
USA
Germany
UAE
Available territories
China
India
South Korea
Japan
France
Italy
Spain
Nordics
Mexico
Brazil
Technology Requirements
All of our patented technology is designed to be easy to install, operate with minimal staffing, and offer remote tech support.
The compact size of IGB's "theme park in a box" turns 40-70 sq. m (450-750 sq ft) of space into a high-yield installation with constantly updating content.
IGB supplies Gameboxes as a prefabricated kit that can be installed in 3 days.
The kits are specifically designed to house the patented IGB technology pack, making the technical install plug-and-play.
Each Gamebox measures 3.6m x 3.6m x 3.6m (12x12x12 ft), with a typical unit housing 8-10 Gameboxes per site.
Additional height is required for Immersive Gamebox signage above the boxes.
Electrical requirements are 3-phase incoming and 150A for 8 Gameboxes.
HVAC requirements typically leverage existing ambient systems.
Gameboxes can be installed to fit most fire safety systems.
Dedicated internet line is required for ongoing support provided by Immersive Gamebox.
We're here to help with any extra technical questions – check out our FAQ for the most common queries or get in touch.
Step inside the Gamebox
Our Gamebox is a revolutionary product for a completely new genre of group entertainment in which shared experience is the priority. Each Gamebox is an interactive smart room designed for 2-6 players, offering 30, 60 and 120 minute immersive experiences from our popular IP or IGB Original content library.
Specialized motion tracking and patented Lidar software for interactive and physical gameplay
Unique touch screen display system and patent-pending player tracking for an unparalleled immersive and social experience
AI real-time dynamic gameplay: Tailors experiences with AI-powered adjustments based on player skills
Our customer journey is designed to drive repeat and engagement. The journey is highly automated, allowing venues to be operated by few members of staff. Our in-Gamebox trailers and calls to action help to seamlessly drive upsells and repeat.

Specialised
Motion tracking
Our games
Exclusive IP
Unique
Touch systems
Creating endless
Fun
For all ages
Social
Exclusive IP
13+ games from our IGB in-house studio and household name IPs
Next-Level Tech
Our proprietary tech platform drives a fully immersive, multi-sensory experience
Loved by Players
24,500 and counting 5 star reviews across Google, Yelp + TripAdvisor
F+C PARTNER TESTIMONIALS
Harvey Jenkinson
Gravity CEO
Immersive Gamebox has been a fantastic addition to our Family Entertainment Centre. The Gameboxes were simple to incorporate into our business, as they only require one member of staff to operate, and the remote monitoring and support has been excellent. Our Gameboxes have experienced high occupancy 7 days a week, as the range of games attracts a wide audience, and encourages repeat business at our venue.
Mark D HAAK Wegmann
Managing Director Majid Al Futtaim Leisure and Entertainment
Immersive Gamebox is a pioneering gaming company, and we are excited to partner with them to expand our offering at Magic Planet. Together, we've ntroduced technology-enabled shared play and a whole new genre of group entertainment.
Dan Fonseca
Executive Director Santikos
Immersive Gamebox represents the legacy of innovation and fits perfectly with our trailblazing spirit. We can not be more excited to present our customers with a truly unique and exclusive offering — a first for the San Antonio market
Ready to take the next step?
We are looking for Multi - unit entertainment operators willing to commit to an ambitious growth plan - sound like you? Follow the link below to get in touch
Apply now
FREQUENTLY ASKED QUESTIONS
Our concession business model is designed to bring 2-5 Gameboxes to an existing venue, for example a Family Entertainment Centre, a movie theatre or a bowling venue. A franchise site is where a third party (a franchisee) opens their own Immersive Gamebox site, that is run in accordance with an agreed set of rules and procedures. We currently have opportunities for both models in major cities globally.
We are looking for operators of existing successful entertainment locations, with the resources and entrepreneurial ambition to make the IGB concession a success. You will bring: a) The space and services for connection b) Staff to be trained in operating and optimising an IGB Concession c) A detailed knowledge of your customers and their journey, so we can best position IGB for success.
We are looking for experienced operators of multi-site businesses, ideally those with experience as a Master franchisee or franchise developer for a brand in retail, hospitality or entertainment. Your experience does not necessarily need to be in location-based entertainment.
You will need to be well-funded with the financial capability to launch and grow your Immersive Gamebox franchise. The up-front capital requirement will include a Franchise Fee of £40,000 and investment in the Technical Pack (hardware required to operate an Immersive Gamebox) of approximately £300,000, per unit. Other fees related to the ongoing operations of an Immersive Gamebox include game content, booking and payment platform and marketing. Exclusivity fees may be applicable for international markets and territories.
Direct financial assistance is not available from Immersive Gamebox. However, we are able to support third-party applications (via banks and other lenders) in your territory.
Definitely. We are particularly keen to speak to partners who wish to develop multiple Immersive Gamebox units. For international markets and territories, we are seeking Master Franchisees with associated development agreements.
We look to develop stand alone venues with at least 8 gameboxes, but it can certainly depend on the market and space available. Concessions are typically 4-5 gameboxes in size.
Definitely. We are particularly keen to speak to partners who wish to develop multiple Immersive Gamebox units. For international markets and territories, we are seeking Master Franchisees with associated development agreements.
Immersive Gamebox in the media
August 2023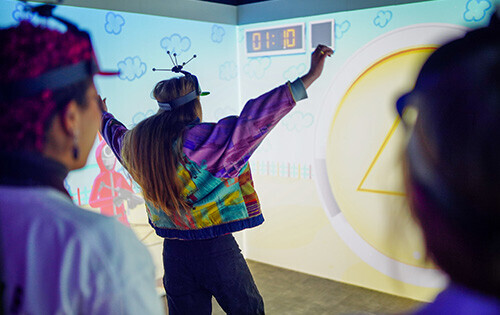 Content Pipeline
Quarterly blockbuster releases of IGB Original content and IP partnerships with Netflix, Sony, Paramount and more
August 2023
Tech platform innovation
Exciting hardware and software updates coming leveraging our proprietary platform that automates seamless guest experiences through machine learning
August 2023
Global expansion
We are scaling rapidly to meet demand for our one-of-a-kind immersive experiences